A Chartered Accountant with more than 30 years of experience in taxation, finance and restructuring having worked extensively in areas such as statutory audit, income leakage audit, Public sector banks, under RBI's appointment.
Mr. Agrawal also has rich experience in providing tax and business advisory services to private equity investors, banks, investment banks, brokerage houses and finance companies.
He has been the youngest President of ICAI 2009-10, and has been acknowledged by former President of India, for his commendable work and presented with 'Recognition of Excellence Award' with Ministry of Corporate affairs, Government of India.
Mr. Agrawal was a Technical Advisor on the Board of International Federation of Accountants (IFAC), Developing Nations Committee (DNC) of IFAC and Small and Medium Practices Committee (SMP) of IFAC.
He is  also a member of the Disciplinary Committee constituted by the Council of the Institute of Actuaries of India nominated by the Ministry of Finance from 2009 to till Date.
Mr. Agrawal has been a Member of:
Central Direct Taxes Advisory Committee (CDTAC) constituted by the Central Board of Direct Taxes

Department of Revenue, Ministry of Finance, Govt. of India and Regional Direct Taxes Advisory Committee (RDTAC), New Delhi

The National Advisory Committee on Accounting Standards constituted by the Ministry of Corporate Affairs, Government of India

The Audit Advisory Board and the Government Accounting Standards Advisory Board, constituted by the Comptroller and Auditor General of India

Member on the Board of Insurance Regulatory and Development Authority (IRDA)

Board of Tariff Advisory Committee of IRDA and also a member of Standing Committee on Accounting Issues (SCAI) constituted by IRDA

Member of SEBI Committee on Disclosures and Accounting Standards (SCODA)
Mr. Agrawal has served as an Independent Director on the Boards of various companies including IRDAI and ICAI Research Foundation amongst others.
He also hold the honorary membership of Institute of Chartered Accountants of Australia and Certified Public Accountant of Australia and currently holding directorship of various Companies.
Presently, Mr. Agrawal is an independent director at Yes bank and Bhagalpur Smart City Ltd and Chairman at audit committee of YES Bank.

In all these years, Mr. Agrawal is working and making a name for himself. He has never considered anyone as his competitor because he strongly believes that "almighty has created such a beautiful and massive universe with diversity of human beings and their different mind sets. When two people cannot be same, how can someone be a competition to another!"
He also believes that "if one has his own thought process and if he focuses on his own work and on growing in life with others then there is no competition but if we follow someone else then there is competition. And with the advent of technology and globalisation I don't see a real person as competition in the world, as now it's human's vs technology. We have such immense talent around that they are all doing well in their own area."
Talking about how he cherish his failures in life, Mr. Agrawal said "There is politics everywhere, which I had to face during my election period for the post of chairmanship of The Institution of Chartered Accountant of India (Western Region) in the year 2000. They tried to create hurdles in my success but with God's grace, and the fact that hard work and honesty always pays off, people saw what I was capable of leading me to become one of the youngest President of ICAI (New Delhi) in a very short period of time.  I would not consider it as my failure, since I stood up even stronger even after everyone trying their best to fail me."


Mr. Agrawal is a workaholic person by passion and love working and exploring new ideas to help others. He actively involve himself in things outside my work chambers as well.
He worked as a social worker for almost all my life and have held various positions in different organization, all having one goal- up-liftment of our society at large. He also keep himself busy in giving career counselling and career guidance to younger generation.
When talked about the most courageous thing you have done in your life, Mr. Agrawal said, "Most courageous thing done by me is having the strength to think big and not stopping myself there, but executing it by myself. It's the World's Premiere Institute for Chartered Accountant student at Abu Road, Rajasthan with the aim to create a global campus for students from across the globe. I have invested all my savings, experience and time of my life to set up UPACA Gurukul. A residential campus providing all the best facilities under one roof."
Talking about the challenges, Mr. Agrawal said, "I have completed half of my life journey by overcoming all the challenges that came between my profession and life. By god's grace I have not been stuck in any challenges faced by me till date. People get stuck only when they are selfish, egoistic and taking situations to their heart. I owe it all to the moral values passed on to me by my family."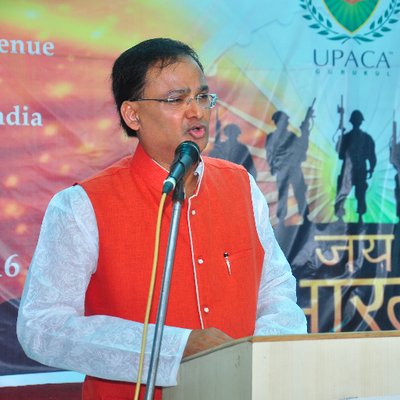 One of his strengths is being a good listener. I have always been a people's man and have been open to any help guidance, suggestion and advice required by them. I try to give my best solutions by stepping into their shoes and thinking from their point of view and also on the basis of experience and knowledge that I possess.
Mr. Agrawal reveals the mantra of his motivation and said, "Success, Respect, Love and Affection from my profession, family and society at large."
He also said that "his parents, Late Smt. Radhadevi Agarwal and Shri Jagdishprasad ji Agarwal, have inculcated very high values in me and have guided me to always do the best for everyone around. Their trust in me and the fact that they think I can make a difference in this world, keeps me very motivated and grounded at the same time."
Mr. Agrawal has setup a campus at par with international standard creating infra-structure for aspiring Chartered Accountant students of our country and named as "WORLD PREMIERE UPACA GURUKUL."


About UPACA Gurukul
UPACA Gurukul is the brainchild of CA. Uttam Prakash Agarwal, former President of The Institute of Chartered Accountants of India (2009-10) and envisioned with an aim to create a Global Campus for students pursuing Chartered Accountancy course.
The basic concept here is to restore the age-old tradition of Gurukul wherein a student has to leave the comfort zone of home, stay at a Guru's Ashram (Gurukul) for the entire training period, learn various subjects for gaining professional edge, study scriptures for developing spirituality and last but not the least – co-exist with other students and Guru's relatives as family for polishing social etiquettes.
At the end of training period, the parents will be rest assured that they would be having a complete all-round citizen back with them, ready to take this world head on.
UPACA provides commerce graduation from the affiliated University, Chartered Accountant class room teaching, personality development, Article ship training, moral values and provides 100% placement to all, under the same roof of 18 acre land.
Mr. Agrawal said, "After seeing the Chartered Accountancy profession very closely as a professional and leader of the profession in various capacities, I feel proud and satisfied that whatever this profession has given to me I am able to repay it back in my own way. I am more happy and pleased because this concept has been received very positively globally by the fellow Chartered Accountants and the society at large."
About Post Author