As we all know that Campa Cola was one of the most loved and a favourite soft drink of all time during the 80s and 90s period of India.
Do you know that Campa Cola was a drink created by the Pure Drinks Group in the 1970s?
Pure Drinks Group were pioneers in the Indian soft drink industry when they introduced Coca-Cola into India in 1949 and were the sole manufacturers and distributors of Coca-Cola till the 1970s when Coke was asked to leave.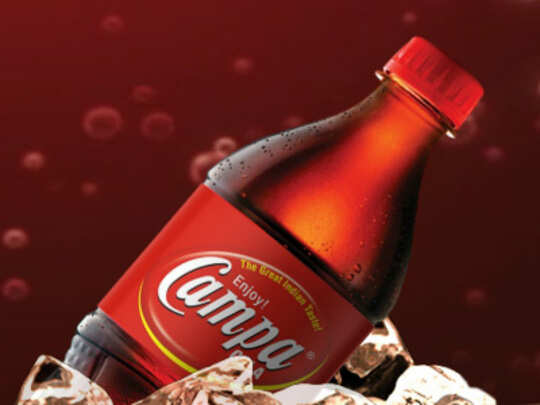 The Pure Drinks Group and Campa Beverages Pvt. Ltd. virtually centralized the entire Indian soft drink industry for about 15 years, and then started Campa Cola during the absence of foreign competition. The company would have not been thought that their brand's slogan was "The Great Indian Taste", would create an iconic slogan and would be so famous all over India.
It was an appeal to nationalism. It subsequently marketed an orange flavoured drink called Campa Orange, with the logo "Campa" on its bottles. Campa Cola had a strong taste of Cola and was extremely fizzy much like what we get nowadays like Thums up. 
A well-thought youth and teens advertising and marketing strategy was carefully carved out keeping in mind its primary target audience – the young Indians. Pure Drinks Group that introduced Campa Cola had shot the advertisement in the Andaman Islands, with a new and fresh youthful vibe with a catchy jingle or slogan. A group of young men and women enjoy the drink on a boat, then dive into the sea and gather around their beach tents with their guitar and the Campa cola by night.
The main theme of the ad was to show the celebration of life by having Campa cola. A print ad for Campa Cola said: "Life is full of Campa Cola times." Later, Campa also launched orange and lemon-flavoured drinks. The print ad showed a group of children playing with Campa Orange. And of course, how can we forget the tagline "We're all in it together for the fun of it, for the taste of it,". 
A new cola war started in India in the early 90s. This was when Pepsi tried to enter the Indian market under former Prime Minister Rajiv Gandhi. To smooth the entry, Gandhi even set up the food processing industry. His government said farmers can supply potatoes and tomatoes for Pepsi's ketchup and chips. Pepsi launched its drink as Lehar Pepsi, in a joint sector company with Punjab Agro. 
ThumsUp co-owner Prakash Chauhan bitterly opposed the entry of Pepsi and the re-entry of Coke. He even claimed the bitter politics and national lobbies against the Campa cola and campaigns by these American corporations in South America, but everything went down in vain. And he eventually sold to Coca-Cola, and Thums Up got a new chance again, to curve up in the Indian market. It was 1993 and India's economy was not in a good condition and was in their debts and loans.
This also proceeded the decline of Campa cola, Campa Orange, Rush, Goldspot, Limca, Double7, Thrill, Double cola etc in the Indian market. There were the two main, soft drinks with large and heavy factories based in Mumbai (Worli) and Delhi. In 2000–2001, the factory based in Delhi had to close because of their losses. In 2009 a small amount of product was still being bottled in the state of Haryana but the drink was hard to find. It is now relaunched under the same brand name Campa cola available at a few grocery stores. 
And this is how gradually the iconic and the most loved Indian cola brands vanished from the markets of India. But still, it may have been extinct nowadays but the taste of those desi brands can never match by these foreign companies and are still in the hearts of each and every Indian who has drunk that cola. 
About Post Author