Cast:
Idris Elba, Margot Robbie, John Cena, Sylvester Stallone, Viola Davis, Daniela Melchior, David Dastmalchian, Peter Capaldi
Director: James Gunn
Certification: A
The Suicide Squad is now playing in cinemas worldwide. In India, it's available in English, Hindi, Tamil, and Telugu. It's also available on HBO Max in the US at no additional charge.
Review:
The Suicide Squad is a soft reboot of Suicide Squad, and it pushes the boundaries of weird, in a good way. First things first, The new James Gunn written and directed franchise superhero film 'The Suicide Squad' has nothing to do with the 2016 release 'Suicide Squad', and it's not a sequel to the earlier one, though there are a few old characters common in both, and it's based on the same source material.
The plot is simple: Ruthless leader of the American government's suicide mission Amanda Waller, under orders from an intelligence officer, picks thirteen inmates from Belle Reve penitentiary to do an important job: their mission is to destroy Jötunheim, a Nazi-era prison, and laboratory in the South.
All the handpicked prisoners, Australian thief Captain Boomerang; hitman Bloodsport; former psychiatrist Harley Quinn; metahumans T.D.K. and Polka-Dot Man; man-eating hybrid Nanaue; violent extremist Peacemaker; computer hacker Savant; mercenary Blackguard; former Olympic athlete Javelin; alien warrior Mongal; rat-controlling robber Ratcatcher 2; and cannibalistic humanoid Weasel.
Each one is recruited for their uniquely skilled qualities. Their task is not that easy for Waller makes an offer to reduce their sentence by 10 years if they come back victorious.
The assignment is venturing to the fictional South American island of Corto Maltese, where the Squad fights unknown enemies and destroys Project Starfish. Then begins a series of total entertaining action and bloodbath.
The most outstanding thing about this latest squad is the way they blend and mix everything into the recipe. It's like you're watching a bunch of genres; comedy, dark comedy, fantasy, action, thriller, drama, superhero, spoof, and commentaries; political, social contexts, world revolving issues altogether.
James Gunn, who also directed Guardians of the Galaxy, develops a non-formulaic approach that seems suicidal at first but triumphantly creates something unique and unpredictable. Talking about unpredictability, it indeed is what it is. You never know what will come next, who will die or survive.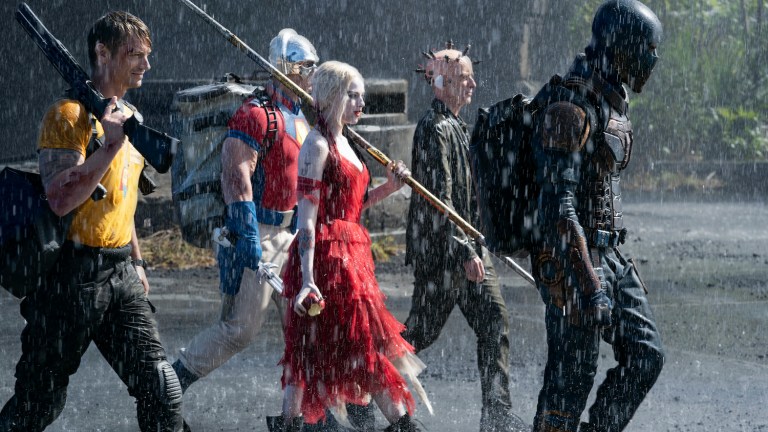 The cinematography was beyond amazing and the film presented some new ideas. The camera movements were also great and felt they sometimes were steady handheld which was so unique. Also loved how the film picks slow motion in certain times only to show the chaos that's happening around and they were very limited which is a good thing. Loved the music in the film.
The costumes were brilliant and loved how James kept the original costume of each character from the comics which made the film/character even more special & real.
Margot Robbie proves that she is the best portrayal of Harley Quinn and I cannot imagine anyone other than her as Harley Quinn. She presents the beauty, craziness, and wildness of the character. Idris Alba surprised me. His character was very well written and Idris played it so right.
The real surprise was John Cena. But, in this film his acting was alright and the thing that helped him is how hood his character (Peacemaker) is written. Especially since that Peacemaker has a huge impact on the story of the film and the future of DCEU.
Daniela Melchior gave the film such a warm/soft vibe and her acting was well done especially in the emotional scenes. The whole cast was just amazing and each actor/actress played their role perfectly. This is how a real suicide squad should be.
When it comes to flaws, on its powerful opening scene, I feel that they waste many of the potential characters here insofar some of them never even got the chance to show their abilities, skills, talents, or superpowers.
there are parts of The Suicide Squad that feel laboured and stretched. Even though it runs a smidge over two hours, it feels longer. Maybe some of that is because there's no urgency to the new squad's mission.
At last, l can say to James Gunn that he just changed DC by this movie. 'The Suicide Squad' is a fun and exciting blockbuster. Go and watch because it is highly recommended.
Rating:
4.5 out of 5 stars.
About Post Author